How does a bear market find "potential" targets? Inventory of projects co-invested by top crypto VCs
2022年08月03日
Although the crypto bear market brings a long and cold winter, it also brings opportunities to start "high-quality targets" at relatively low prices, and it also helps ordinary users to ambush potential projects that have not yet issued tokens. The crypto world is like a dark jungle, and how to screen potential empty bids is the primary problem faced by users. In this paper, PANews starts from the investment map of 6 leading VCs in the crypto circle, including a16z, Multicoin, Paradigm, Alameda Research, Binance Labs and Coinbase Ventures, and sorts out the projects that have been jointly invested and have not yet issued tokens, so as to provide users with an empty bid. refer to.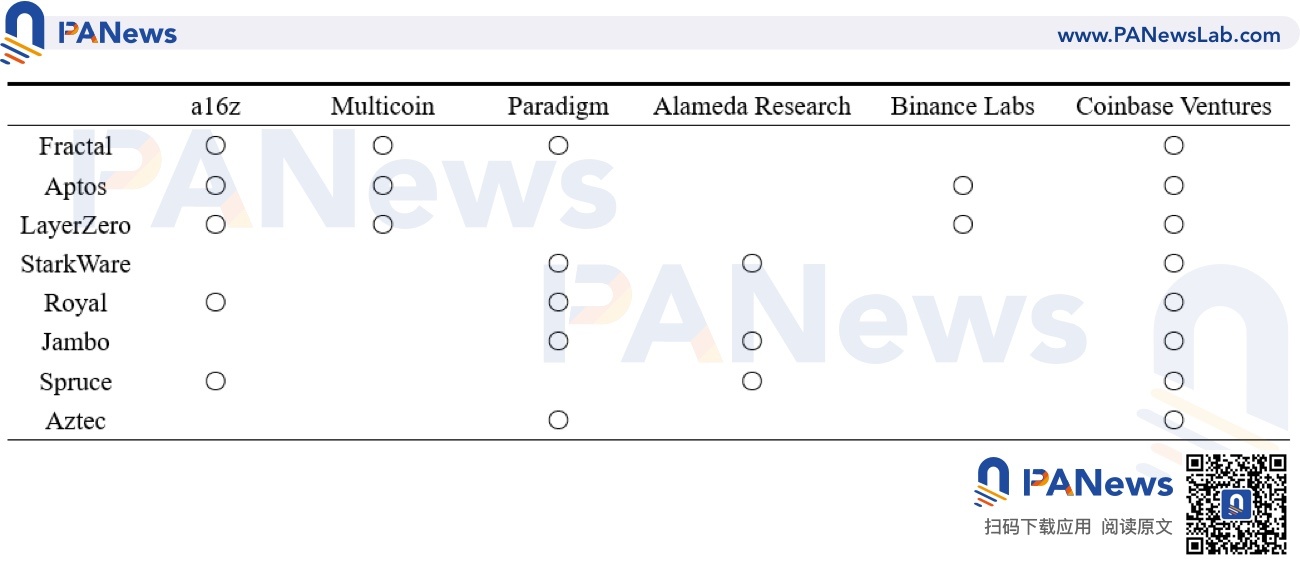 Four institutional investments
Fractal: Game NFT Trading Platform
Fractal is a trading platform focused on game NFT deployed in the Solana ecosystem to support the free exchange of in-game assets in a secure and open market. Fractal was founded by Twitch co-founder Justin Khan and completed a $35 million seed round in April, led by Paradigm and Multicoin Capital, with participation from a16z, Coinbase Ventures, Solana Labs, Animoca Brands and others.
To allow users to experience the game seamlessly, Fractal has launched Fractal Wallet, allowing the use of existing Google accounts for easy registration and login. Fractal divides the game into 4 categories, namely Mints, Tournaments (tournaments), Trending and Play Now. Mints displays the game projects that are currently or about to be opened. Users can see the projects in different categories by clicking on them. Project-related information, such as NFT transaction data, project introduction, social media links, etc.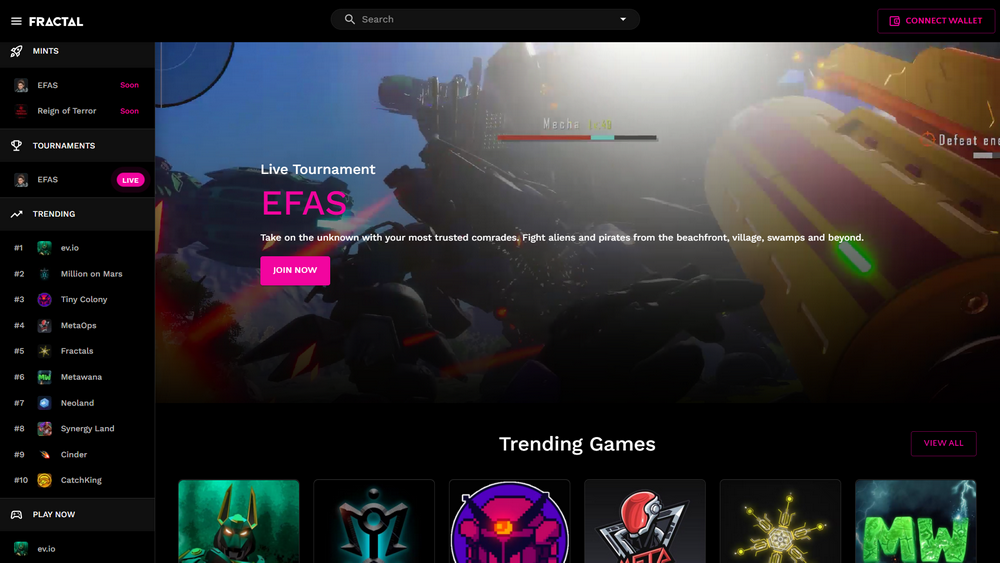 In addition to the traditional "Paly to Earn", the platform also sets up tournament activities, that is, players can compete for bonuses by participating in the games in the tournament. The current tournament game is the space sandbox chain game Earth From Another Sun (EFAS), which is in In June, it received $4.5 million in financing from institutions such as Solana Ventures, Alameda Research, and Lightspeed, and this round of $10,000 in prize money. As of August 2, the games in the Fractal platform's playable category are the shooting game ev.io and the tank fighting game Panzerdogs.
In addition, Fractal also launched Launchpad in January, allowing game developers to raise funds by selling their in-game digital assets, while Fractal will ensure the quality of Launchpad projects through a strict audit mechanism. It is understood that in addition to providing NFT transaction services, Fractal is also committed to unlocking more NFT application examples, such as NFT lending, NFT pledge, etc.
Aptos: a new public chain created by the former technical team of Facebook

Aptos is a new public chain focusing on security, scalability and upgradeability. It was founded in 2021 by the original team members of Meta (formerly Facebook) in charge of the Diem project. The programming language was originally developed for Diem. Move language. Compared with Solidity, one of the most commonly used development languages, Move stands out in terms of security.
Under the aura of "famous family", Aptos is favored by many top VCs in the industry, including a16z, Multicoin Capital, Binance Labs, Coinbase Ventures, FTX Ventures, Tiger Global, PayPal Ventures, etc.
On August 1, Aptos released the highlights and updates of Incentive Testnet 2. A total of 225 nodes participated in the test, distributed in 110 cities in 44 countries around the world. In addition, Aptos will issue token rewards to participants in Incentive Testnet 2 who meet certain conditions. In addition, Aptos Incentive Testnet 3 will open registration on August 19th and end on September 9th, after which the mainnet will be released in the fall.
In order to promote the development and construction of the entire ecosystem, in addition to the hackathon event (which has already been held once), Aptos has also launched an ecosystem funding program. The funding categories include:
· Developer tools, SDKs, libraries, documentation, guides and tutorials;
· Tools and frameworks for development, governance, DeFi, NFTs;
· Core protocol contributions: Token standards, libraries, protocol upgrades, etc.;
· Open source and public goods;
· Education plan;
· Applications (such as DeFi, DAO, Gaming, etc.).
It is understood that Aptos has about 100 projects built on the network, involving DeFi, NFT, Gaming and other fields, such as PontemNetwork, which built the first DEX Liquidswap in the ecosystem, Zaptos, which provides liquidity staking services, and aims to solve the DAO payment problem. Paymagic, Martian DAO for building wallet Martian Wallet and NFT market Curiosity, decentralized asset management and investment protocol Solrise Finance, wallet Fewcha Wallet, etc. PANews also introduced the Aptos ecosystem in detail.
LayerZero: Interoperability Protocol Has Cross-Chain Bridge App Stargate Finance
LayerZero is a full-chain interoperability protocol to solve the problem of information exchange between different blockchain networks, that is, the current functions on a single chain can also be realized in the form of cross-chain, such as cross-chain lending, cross-chain pledge, etc. Developed by the Canadian team LayerZero Labs, LayerZero completed a $135 million A+ round of financing at the end of March. Investment institutions include a16z, Coinbase Ventures, Multicoin Capital, FTX Ventures, Tiger Global, Sequoia Capital, etc. In September 2021, Multicoin Capital and Binance Labs co-led LayerZero's $6 million Series A round.
As a cross-chain underlying protocol, LayerZero has launched the first cross-chain bridge application, Stargate Finance. The latter's lock-up amount exceeded 2 billion US dollars a week after its launch. As of August 2, its TVL was about 480 million US dollars. Through Stargate Finance, users can transfer or exchange cross-chain assets (non-packaged assets), provide stablecoins (USDC, USDT, BUSD) and ETH unilateral liquidity, pledge native STG to obtain veSTG (for governance voting). PANews also detailed the advantages of the cross-chain bridge Stargate Finance before.

Three institutional investments (including Vitalik Buterin)
StarkWare: Ethereum Layer 2 Expansion Solution
StarkWare is one of the "Big Four" Ethereum Layer 2 expansion solutions (Arbitrum, Optimism, zkSync), focusing on building ZK-Rollup-based solutions. Two products, StarkEx and StarkNet, have been released. The protocols built on StarkEx include: dYdX, ImmutableX, Sorare, etc. Compared with StarkEx, StarkNet is more general and is a permissionless, composable network.
Like zkSync, StarkWare's ecological construction is still in the early stage. At present, users can interact with projects on the StarkNet testnet to experience its ecology, such as wallet Argent, decentralized exchange StarkSwap, asset management protocol Magnety, etc. StarkWare completed a $100 million Series D financing in May, led by Greenoaks and Coatue. Previous investors in the financing round include Paradigm, Alameda Research, Coinbase Ventures, IOSG, and Sequoia Capital. On July 13, StarkWare announced that it will issue a token in September, and PANews also detailed the StarkNet token economic model.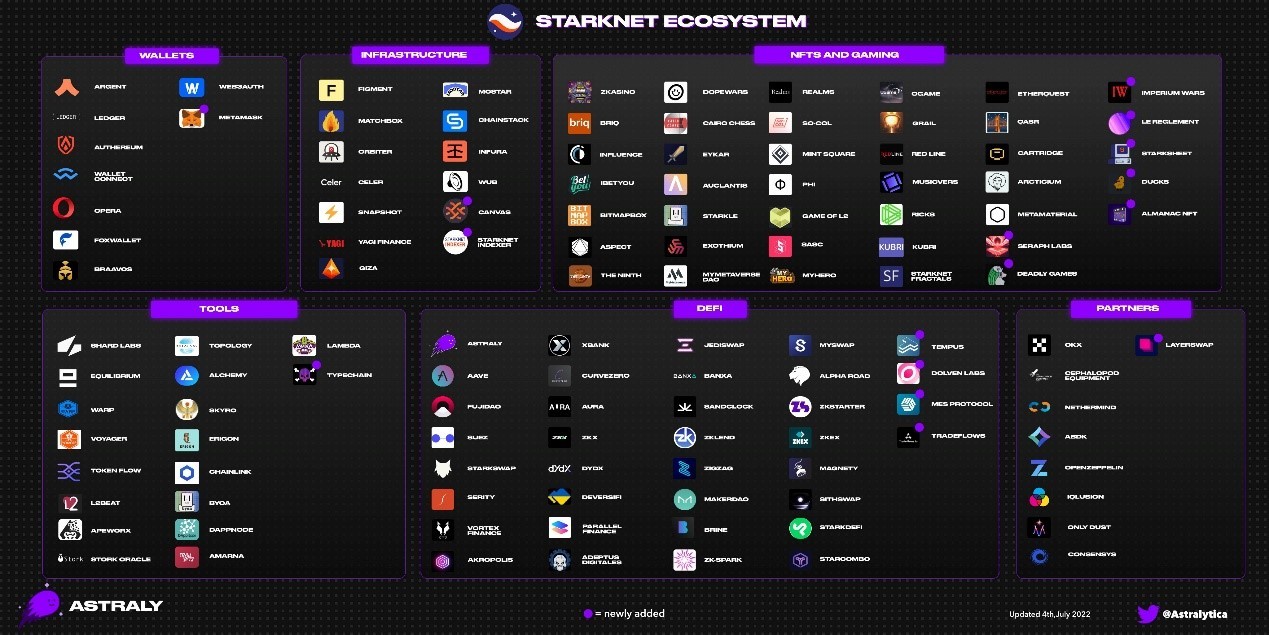 Royal: Music tokenization platform
Royal is a music tokenization platform launched by artists 3LAU and JD Ross, that is, artists sell the ownership of songs to fans in the form of NFTs through this platform. NFTs with different copyright weights contain different rights and interests and different values. By purchasing this type of NFT, fans can share the income from royalties with creators. Of course, users can also sell NFTs on the OpenSea marketplace, and buyers will receive the accompanying royalties and additional benefits.
By tokenizing song royalties, Royal realizes the economic sharing of fans and creators, aiming to break the traditional centralized platform control model. In November 2021, Royal completed a $5,500 financing, with investment institutions including a16z, Paradigm, Coinbase Ventures, etc.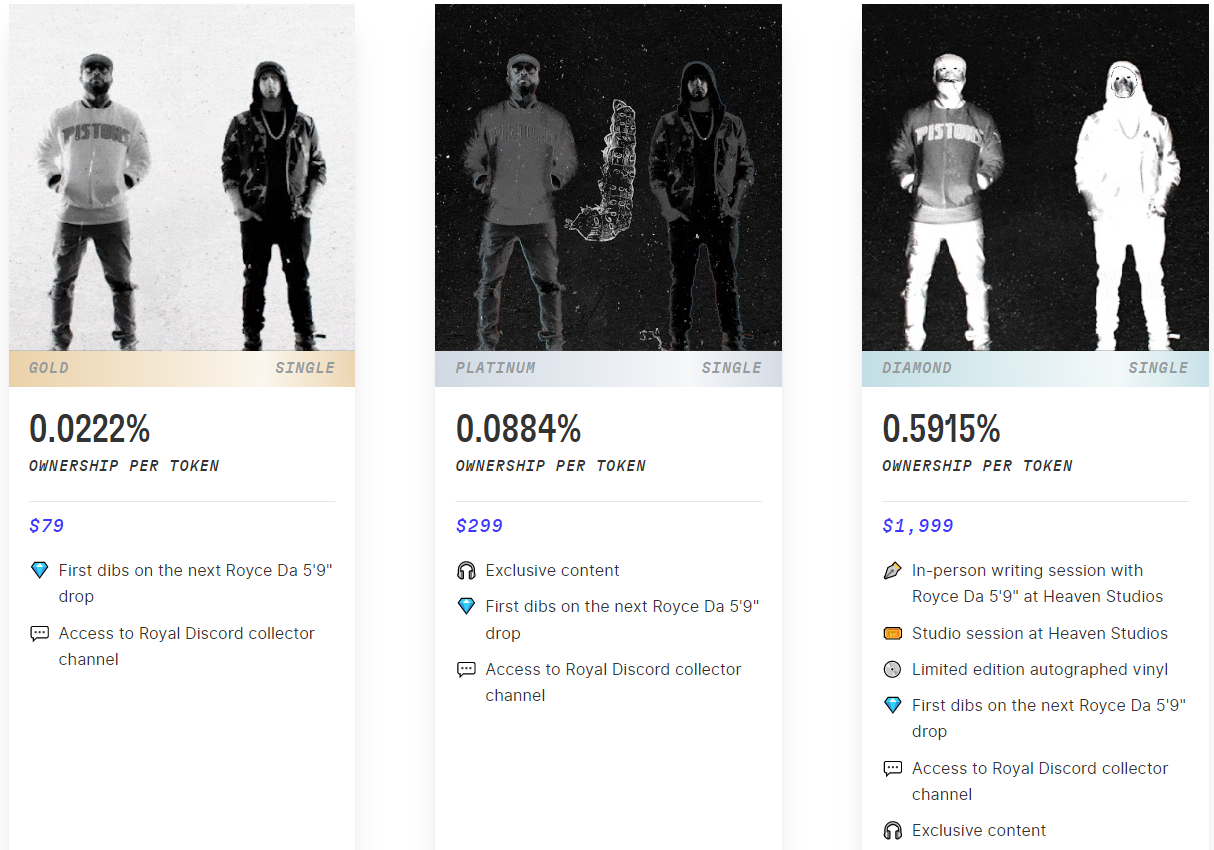 Jambo: African Webe3 App
Jambo is a Webe3 application development company located on the African continent. It aims to attract users into the Web3 world through the chain game of the Pay to Earn model as a traffic portal, laying the foundation for further experience of Web3 products, such as DeFi services. In addition, Jambo is running the JamboAcademy campaign, which aims to help African users enter Web3 through training and education.
It is understood that Jambo aims to be an integrated multi-functional one-stop application and become an important Web3 user acquisition portal on the African continent to bridge the gap between Africa and applications from around the world seeking to enter the African market. In addition to the $30 million Series A round led by Paradigm in May, Jambo also completed a $7.5 million seed round in February with participation from Coinbase Ventures, Alameda Research, and Tiger Global.

Spruce: Digital Identity Authentication for Decentralized Identity (DID)
Spruce is a digital identity authentication company focused on decentralized identity (DID), aiming to allow users to own their own identities and realize identity interoperability. Spruce has launched two products, one is the centralized identity toolkit SpruceID, which provides signature, sharing and verification of trusted information, and the other is Kepler, an autonomous storage, which allows users to have control over data from storage, sharing, access, etc. right.
In September 2021, Spruce won the bid for a project jointly initiated by the Ethereum Foundation (EF) and the Ethereum Name Service (ENS), which will allow you to log in to third-party applications through your Ethereum account and use your wallet to control your digital identity. Spruce completed a $34 million Series A round in April, led by a16z, and raised $7.5 million in November 2021. Investors include Alameda Research, Coinbase Ventures, A. Capital Ventures, and more.

Aztec: Privacy Layer2 Solutions
Aztec Network is a privacy-focused Ethereum layer-2 solution that guarantees both scalability and privacy through the zero-knowledge proof technology zkSNARK. Aztec Network completed a $17 million Series A financing led by Paradigm in December 2021. Other investment institutions (including other financing rounds) include Coinbase Ventures, IOSG Ventures, Buterin, etc.
Aztec Network officially launched the Aztec Connect mainnet that provides privacy protection for DeFi transactions on July 7. Aztec Connect will allow anyone to pass bridge contracts (an interface that connects Ethereum smart contracts to Aztec's underlying Rollup technology) or allows developers to develop A software development kit (SDK) for people to integrate their applications with Connect adds privacy to Ethereum applications. At present, the Aztec Network ecosystem has only launched the zk.Money application, and users can use zk.Money to encrypt transfer data.

---
Introduction: In the realm of electrical power and distribution equipment, the efficient cooling of Application-Specific Integrated Circuits (ASICs) is crucial to ensure their optimal performance and longevity. This guide aims to provide electrical professionals with a comprehensive understanding of ASIC cooling, exploring the key aspects and principles involved in this essential process. 1. What
---
Table of Contents 1. Introduction: Understanding the Importance of Efficient Cooling 2. The Basics of ASIC Cooling 2.1 What is ASIC Cooling? 2.2 Why is Efficient Cooling Crucial for ASIC Devices? 3. Factors Influencing ASIC Cooling Efficiency 3.1 Heat Dissipation and Thermal Management 3.2 Airflow and Ventilation Considerations 3.3 Cooling Systems and Technologies 4. Best Practices
---